Welcome to my third blog about KONE online planning and design tools. You're still here, so I guess I have your attention.
Good! Now let's talk aesthetics. This topic should be right up your alley.
Last time I went into the nuts and bolts of the planning process and the many ways that KONE Elevator Planner, KONE Escalator Planner and KONE Car Designer can make life easier by doing the math for you and freeing up your energy for the more imaginative stages of designing a building.stages of designing a building.
This time around I'll be plunging deeper into the designer-ly world and sharing how the KONE Car Designer can help you realize your creative vision by letting you play around with different colours, materials, functional solutions, lighting, and other styling options.
Available both as a web tool and mobile app, the tool not only allows you to mix and match ready-made alternatives from KONE's design offering – which is the most extensive and flexible on the market – but it also gives you a foretaste of the complete user experience with a very high level of accuracy.
You can literally see, feel, and plan how your elevator will fit your building and how it feels to ride in your elevator-to-be.
Offering full 3D views, the visualization quality is great, and the tool works smoothly and swiftly on your computer, phone, or tablet. KONE Car Designer is the only genuine 3D elevator design tool that is currently available on the market.
So, without further ado, let's get visual!
Creating the perfect elevator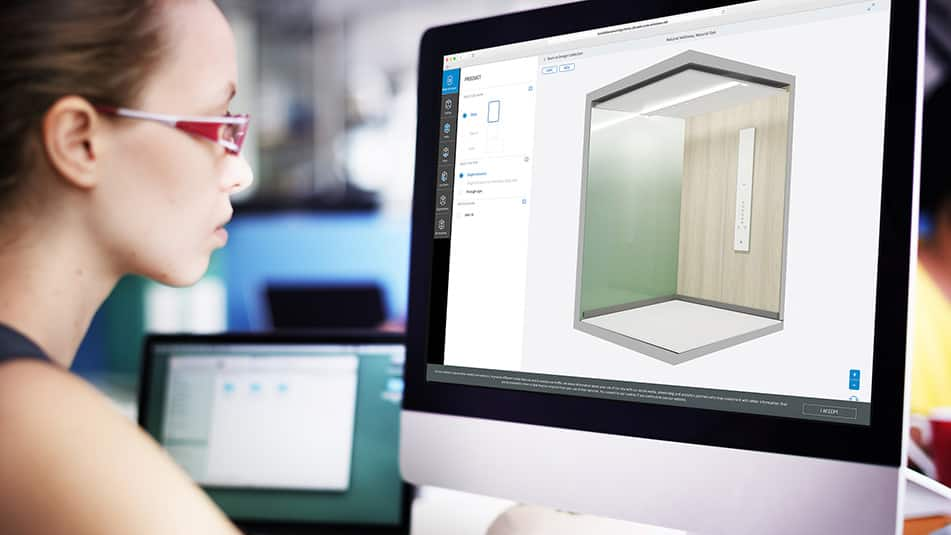 Every elevator has a look and feel that creates value… or not… as the case may be.
It all depends on how much thought and effort is invested in the design process. Your elevator can be the stylish flourish that completes the "wow" effect of your building – the cherry on your cake, so to speak – or it can be an uninviting, claustrophobic steel box that spoils the visitor's experience as they transition from the lobby to the other floors.
There's no use throwing your hands up and saying, "But I didn't realize this is how it would end up looking". That's not a valid excuse, because the KONE Car Designer tool shows you EXACTLY how your elevator will look and whether it matches the style of your building.
Of course, there are certain projects in which the elevator design revolves around functional priorities. In hospital settings, for instance, the look of the elevator is less important than issues such as durability, hygiene, and easy-to-clean components and materials. In buildings catering to groups such as the elderly or visually impaired people, it's important to provide high contrasts between different elements to aid navigation. It's not always about making things look pretty – sometimes function comes first, and whatever works for the target group.
Other projects, meanwhile, are more about providing a cutting-edge user experience that supports a company's image or brand.
No matter which is the case, you can use KONE Car Designer tools to explore, test, and define whether your elevator fulfills your needs and supports your desired features.
So, the choice is yours. Do you want to offer an optimum functional experience or a half-baked compromise? Do you want to undermine the aesthetic appeal of your building with an elevator that delivers a "meh" experience, or do you want to uplift your design by incorporating elements that take your creative vision to the next level?
KONE Car Designer tools can be used at any stage in the process of building design, planning, and purchasing equipment for new buildings or existing ones. The KONE offering comprises a myriad of products that are suitable for new construction, full replacement, or even just revamping the visuals of the existing elevator.
Here's how the KONE Car Designer can help you.
1. Where do I begin? Let the tool inspire you!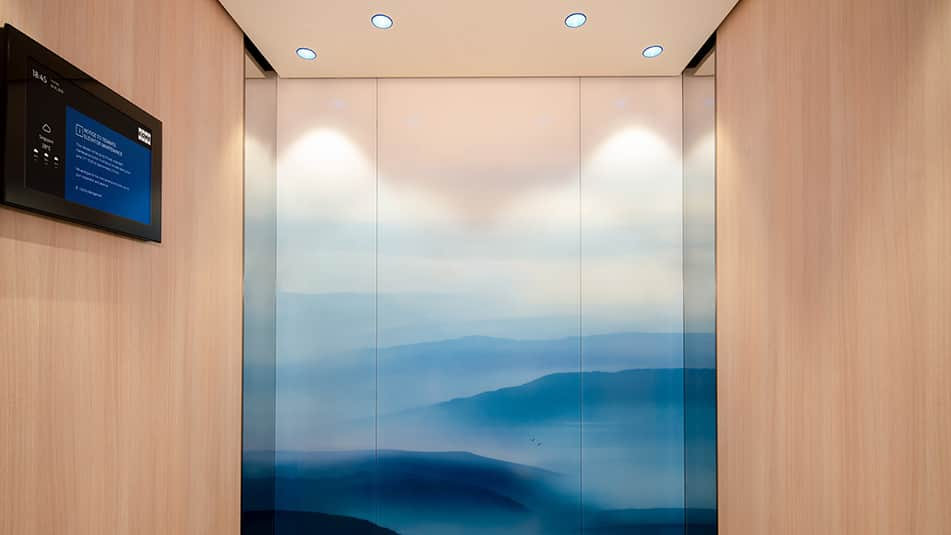 In the early stages of concept design and planning, the KONE Car Designer can help you explore different alternatives – in other words, it shows you what's possible and what options are out there for you to choose from. This can be done conveniently using KONE's ready-made design themes, which offer examples of great-looking elevator interiors under three categories. There's "Natural Wellness", which highlights natural materials and a nature-inspired ambience. There's "Creative life", which accentuates a refreshing, energizing vibe. And there's "Modern Heritage", which combines contemporary trends with local heritage. Using these themes is an easy way to start finding the right direction for your design. In the follow-up stages, you can switch up and modify the details as suits your taste and needs
2. Or do it yourself… in 3D
KONE's extensive selection of patterns, colors and materials are highly adaptable, making it easy for you find a combination that fits your vision, whether the effect you desire is subtle or impactful. But for designers who prefer to freestyle, another alternative is to start with a blank slate and design your elevator completely from scratch. When you select this option, you can use the tool to build your elevator from start to finish in line with your own preferences and see your design materialize, piece by piece, in 3D, in front of your very eyes.
3. Materials make all the difference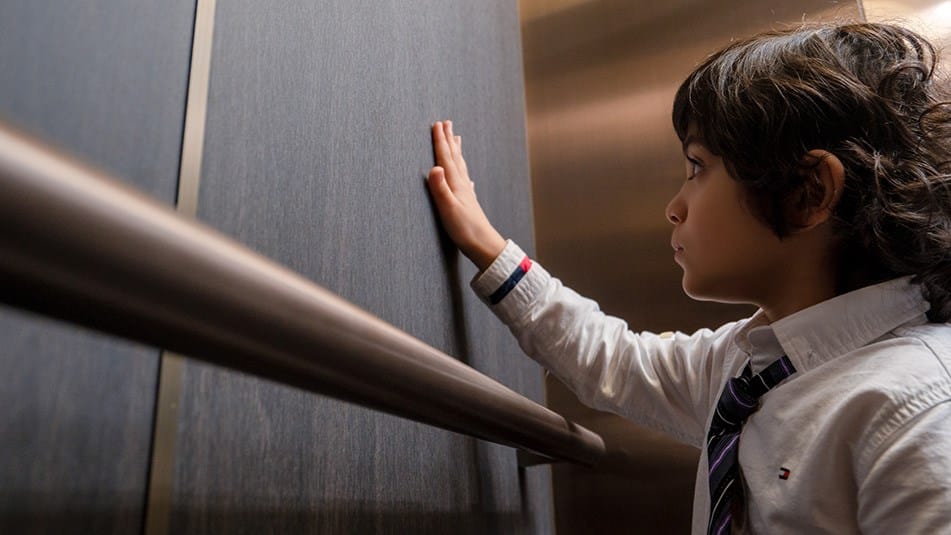 The materials you select for the walls and ceiling will obviously have a huge impact on how your elevator ends up looking. The KONE Car designer offers you a broad range of alternatives from which to choose, and you can finetune your selections right down to details as finicky as the ceiling finish and the colors of the light bulbs. The tool not only helps you design a car interior that fits your architectural vision perfectly, but it also helps you choose materials that are easy to clean and maintain, including innovative anti-fingerprint and anti-bacterial surfaces.
4. Custom signalization and high-tech destination control
Functional, visually appealing signalization can have a surprisingly big impact on the user experience. KONE offers a wide range of signalization options to ensure clear guidance and ease of use. This includes flush and surface-mounted devices to suit any design vision, including vandal-resistant features and options for the visually impaired. You can choose whether to have one set of push buttons in the car, or up to four sets in different locations. Or, if you prefer to go high-tech, you can opt for a destination control system, which allows users to select their floor directly from an exterior operating panel or with a mobile app.
5. Let your design shine with impactful lighting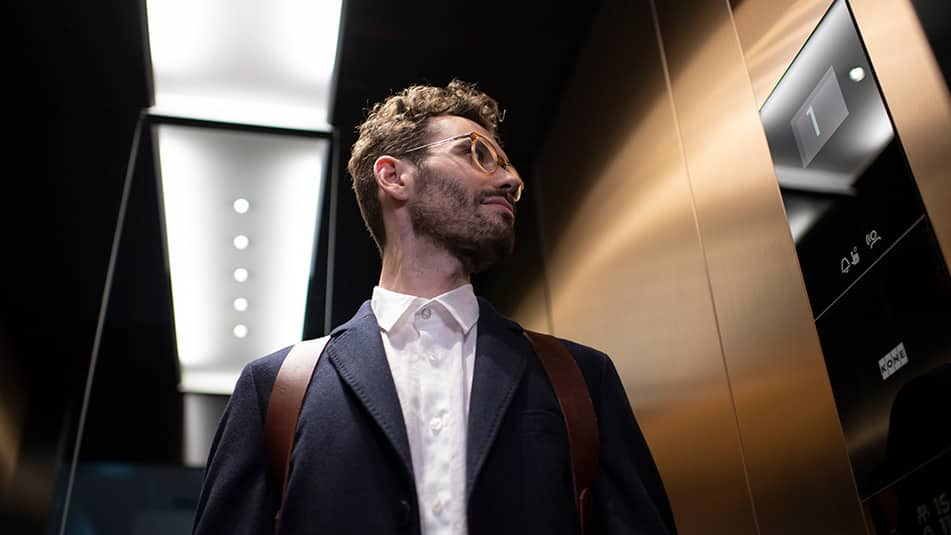 If there's one thing that can totally ruin a great design, it's bad lighting. KONE tools help you create just the right ambience by allowing you to test how different colors and lighting effects will affect your design. Test and see for yourself how diffused, direct, and indirect lighting can be combined to achieve inspiring, energizing, or calming effects.
6. An infotainment screen can add a final touch!
KONE infotainment screens are a great way to entertain and inform passengers by enabling building owners to share fully customizable multimedia and web-based content, or even to share safety and building-related information in elevator cars. A crisp, clear, in-car infotainment screen also adds an appealing final touch to your car design. Test and see how a screen would look in your car!
7. Functional details for special target groups
Accessibility and safety issues, too, are easy to plan with the KONE Car Designer, which helps you decide important details such as whether and where to place handrails in the car, whether there is a need to include a lift-up seat so that elderly passengers can have a rest during their elevator ride, and whether and where to place mirrors to support a safe exit for wheelchair users. All these elements have an impact on both the functional performance and visual impact of the elevator.
8. Great car… but the landing counts too!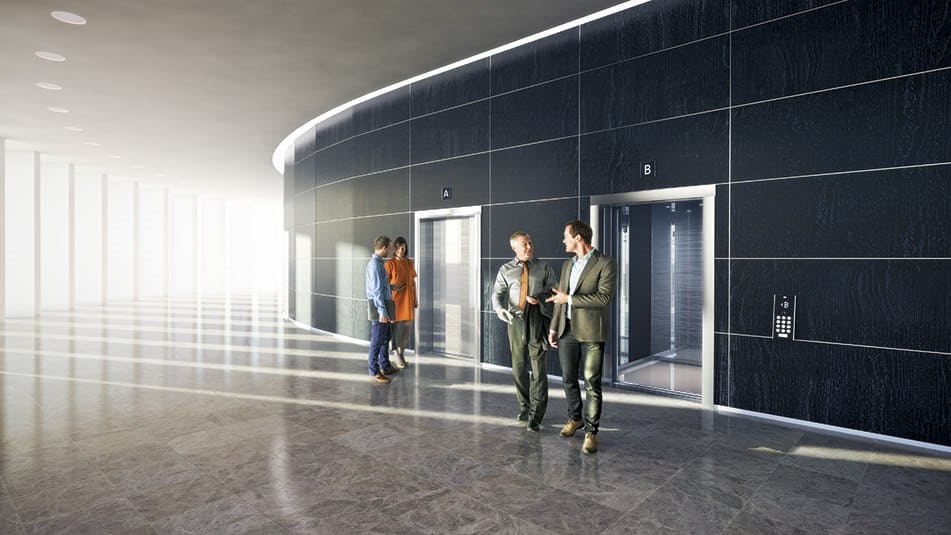 The scope of the KONE Car Designer is not limited to the interior of the elevator cabin. The tool also offers a choice of visual elements to enhance the design of your elevator landing. This is no minor issue, as the landing defines how the elevator fits the building's lobby and floor visuals. The types, amounts and positions of hall indicators, landing call stations, and door frames can be designed easily in the KONE Car Designer tool's 3D landing view, which also allows you to view ready-made landing visualizations to help you picture how your elevator exterior will look in its final setting.
9. Import custom-made details
If you can't find the exact finishes or details you're looking for in KONE's broad offering, you can use the custom material function to import and design your own custom-made finishes for the elevator's walls and flooring. You can even import special materials for the walls and floor of your landing to ensure that the elevator's exterior visually harmonizes with its surroundings.
10. All done… Now share your vision!
When your design is ready, you can simply extract the design documents and send them to other stakeholders for commenting and approval. You can even forward them to suppliers to initiate tendering. Or, better yet, you can share the link directly in the tool so that other users can see a 3D version of your design and modify its elements if the need arises. Such an in-depth level of digital collaboration in elevator design is now possible – and only with the newly expanded KONE Car Designer tools.
One more thing: The design of KONE DX (Digital Experience) Class elevators recently won four awards in the renowned Red Dot Award Product Design competition. The KONE DX Class elevator interior collection and the KONE DX Class digital experience elevator concept were awarded for their outstanding design features, innovativeness, and smart elements.
To cut a long story short: KONE understands design.
Join me again next time, when I'll be sharing what your colleagues, fellow architects, and designers, are saying about KONE online planning and design tools.
Aleksi M
For more info on KONE user experience, materials and design themes and pre-designs, visit here.
About me
My name is Aleksi Marjamäki and I'm responsible for KONE customer-facing tools for architects and designers. I've worked for KONE for 16 years, which is basically my whole professional life. My background is in marketing, so I'm not a "tech guy", but as the owner of a very OLD motorcycle, I've found myself slowly turning into a mechanic (not by choice but more out of necessity). To tell the truth, I probably know more about standup comedy than engineering, but as far as I'm concerned, that makes me the perfect "expert" to explain how architects can benefit from using KONE tools. The reason why these tools are so indispensable is precisely because not everyone is an engineer! Not me, not you, not even the legendary Alvar Aalto. And, if you ask me, even Aalto might have avoided a few design calamities if KONE tools had been available in his day!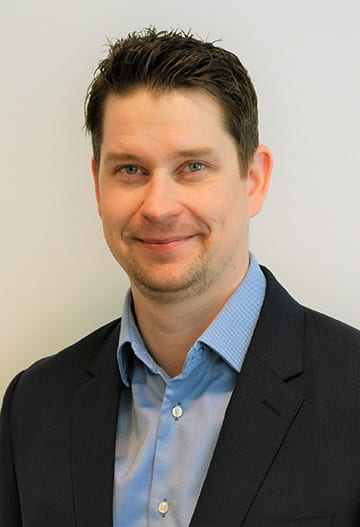 Name: Aleksi Marjamäki
Hometown: I come from a small town called Ulvila near Pori on the west coast of Finland.
Education: I studied at Oulu University and after that at Tampere University. My major was marketing, but I also studied strategy and accounting.
Professionalrole: I'm a member of KONE's Global New Equipment Business Development team. I am responsible for tools such as the Elevator and Escalator Planner and Car Designer tools for detailing the visuals of elevators, as well as a couple of other customer-facing tools that we are currently piloting.
Workhistory: I joined KONE's International Trainee Program (ITP) in the Hague, the Netherlands in 2005. I also worked as a business development manager at KONE Great Britain back when Building Information Modeling (BIM) became a rising trend in building design and collaboration.
Hobbies: I've been doing CrossFit since 2016. I also snowboard a few times a year. I'm waiting for COVID to pass so I can go skiing in the Alps again. I also have a boat and a motorcycle and love spending warm summer evenings boating around Helsinki's islands or cruising town on my bike.
How I relax: I listen to a lot of podcasts, some more professional, but mostly casual life learnings. I also really like stand-up comedy – watching and listening, not doing it myself.
Who inspires me: My son Oiva, who just turned eight and my daughter Anni, who turns five in July.